The goal of the academy is to impart technical knowledge regardless of manufacturer about all aspects of automated guided vehicle systems.
ProLog Automation will provide in-person training, E-learning, or training sessions at your facility. With our AGV Academy, you get customized training concepts. They include knowledge transfer for service technicians, project planners, designers, or users who are interested in technology.
[button size="medium_rd_bt" t_color="#000000″ b_color="#a2bc41″ t_hover_color="#ffffff" b_hover_color="#000000″ font_weight="700″ url="/wp-content/uploads/2021/09/ProLogAutomation_A4Flyer_AGV-ACADEMY_2021_ENG.pdf" target="yes" position="ta_center" mt="15″]AGV Academy info sheet[/button]
Learn everything you need to become an AGV expert.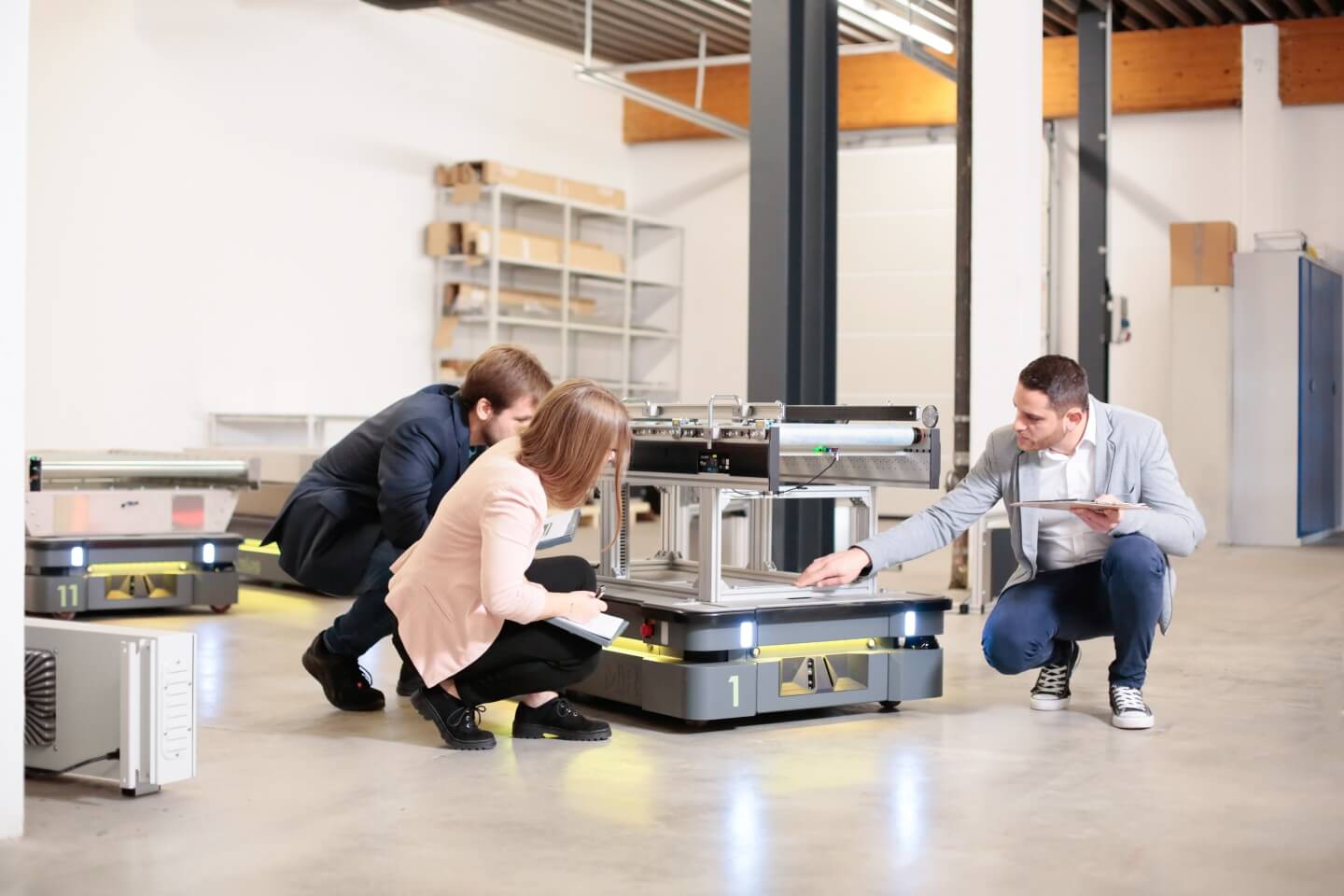 Your benefits
[4k_icon icon="u8-check18″ icon_color="#a2bc41″ float="right"]
Rapid qualification of new employees
[4k_icon icon="u8-check18″ icon_color="#a2bc41″ float="right"]
Safe use of automated guided vehicle systems
[4k_icon icon="u8-check18″ icon_color="#a2bc41″ float="right"]
Tips and insights from practical experience
[button size="medium_rd_bt" t_color="#000000″ b_color="#a2bc41″ t_hover_color="#ffffff" b_hover_color="#000000″ font_weight="700″ url="/registration-for-seminars-and-webinars/?lang=en" position="ta_center" mt="25″]Get your team qualified now[/button]
Overview of our training courses

[button t_hover_color="#000000″ url="/registration-for-seminars-and-webinars/?lang=en" ex_class="expert_btn"]Learn more[/button]
Basic AGV training
Target group:
Service technicians, commissioning techs, customers who want to integrate a system, integrators, project managers
Contents:
Introduction to the world of AGV Structure and functionality of an automated guided vehicle system

[button t_hover_color="#000000″ url="/registration-for-seminars-and-webinars/?lang=en" ex_class="expert_btn"]Learn more[/button]
AGV maintenance and repair
Target group:
Service technicians, commissioners
Contents:
Inspecting safety equipment, recognizing and identifying sources of malfunctions, testing tracking accuracy and alignment, documentation, individual training packages developed on request

[button t_hover_color="#000000″ url="/registration-for-seminars-and-webinars/?lang=en" ex_class="expert_btn"]Learn more[/button]
AGV controls with Navitec
Target group:
Service technicians, commissioners, integrators, project managers
Contents:
Vehicle training, independent of manufacturer – handling and use of the overall system

[button t_hover_color="#000000″ url="/registration-for-seminars-and-webinars/?lang=en" ex_class="expert_btn"]Learn more[/button]
AGV system operations
Target group:
Service technicians, commissioners, integrators
Contents:
Contents of procedures for shift support, logging, general

[button t_hover_color="#000000″ url="/registration-for-seminars-and-webinars/?lang=en" ex_class="expert_btn"]Learn more[/button]
Project management for operators
Target group:
Operations managers, planners, integrators, project managers, sales
Contents:
Specifications for an AGV project: From the requirements and functional specifications to overall acceptance of the system

[button t_hover_color="#000000″ url="/registration-for-seminars-and-webinars/?lang=en" ex_class="expert_btn"]Learn more[/button]
Project management for manufacturers
Target group:
Operations managers, planners, manufacturers, integrators, project managers, sales
Contents:
Fundamentals of project management, laws, standards, guidelines, technical documentation, requirements and functional specifications, order implementation in 4 phases

[button t_hover_color="#000000″ url="/registration-for-seminars-and-webinars/?lang=en" ex_class="expert_btn"]Learn more[/button]
AGV network training
Target group:
Service technicians, commissioners, integrators
Contents:
Overview of technical terminology, network models, architectures, network connections (cabling, Wi-Fi), Ethernet, OSI layer model, connections, Wi-Fi, tips from practical experience

[button t_hover_color="#000000″ url="/registration-for-seminars-and-webinars/?lang=en" ex_class="expert_btn"]Learn more[/button]
Digital technology: PLC and sensors
Target group:
Service technicians, commissioners
Contents:
Binary and logical functions, EVA principle, structure and functionality of a PLC, sensors (proximity switches, rotary encoders), logical links, bus systems, programming examples